Here's the food for thought you'll get…
Going Gluten-Free is for you if you're suffering from Irritable Bowel Syndrome, mood disorders, skin problems, hormone imbalances, immune issues, inflammation, and more.
Going Gluten-Free is for you if you're just sick and tired of being sick and tired.
Going Gluten-Free is for you if traditional treatments just don't work and it seems like no one cares.
Going Gluten-Free is for you if you've wanted to for a long time but just don't know where to start.
Going Gluten-Free is for you if you're gung-ho, hesitant, white-knuckling, or everything in between.
Going Gluten-Free for you may mean the difference between lingering sickness and spectacular health.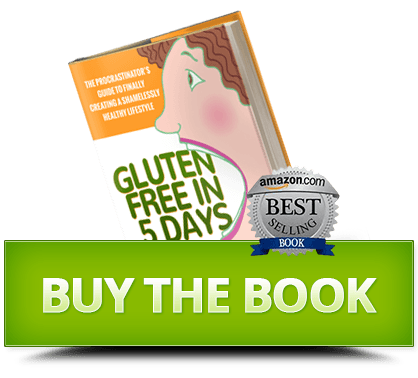 So Go Gluten-Free with me with "Gluten-Free in 5 Days"! An often funny, abundantly anecdotal, sometimes irreverent, always honest way to finally create a smashingly healthy lifestyle, this book guides you step-by-step through choosing, shopping, cooking, and dining out Gluten-Free. But it's not just your normal average "how-to". Because "Gluten-Free in 5 Days" not only gives you pretty much everything foodwise you'd ever want to know about going Gluten-Free. It also empowers you with foolproof ways to get there.
Let's face it . . . lifestyle changes can be downright daunting. And you may get bogged down and discouraged along the way even with the best of intentions. So interwoven within each chapter are powerful CHANGE-POWER behavior modification tools to get unstuck and get going. To immediately have the smashingly healthy lifestyle you've always wanted but seemed just out of reach.
Are you ready to have freedom from digestive, mood, immune, skin, inflammation, and hormone problems? And lasting wellness? For the rest of your life?
Go Gluten-Free with me. Let's go!
Are You Ready For Change?
Praise for Gluten-Free in 5 Days

Drastically changing the way you eat is difficult. For me, it was literally an act of desperation in an attempt to alleviate the inflammatory problem I had struggled with for years. I had seen multiple specialists whose many well-researched attempts to treat my symptoms were completely ineffective. Jill Place did not treat my symptoms … she cured the underlying inflammation and I am eternally grateful to her. Jill walked me through the LEAP testing process and thoroughly overhauled my diet. Her wisdom gained through years of experience, encouragement, and practical meal ideas made the process of radically changing the way I eat a hopeful and exciting journey.

Thank you, Jill, for a very useful book that acknowledges the significance of food and how it affects us physically, socially, and emotionally. I highly recommend this book, and encourage anyone who is serious about changing their life through their diet to invite Jill along on their journey. Your commitment and Jill's expertise is a recipe for success!
Mom of Two Teens, Wife, Friend, Business Owner, Occupational Therapist, Highly Sensitive to Foods, Gluten-Free, Loving Client