Here's the food for thought you'll get…
Going Gluten-Free is for you if you're suffering from Irritable Bowel Syndrome, mood disorders, skin problems, hormone imbalances, immune issues, inflammation, and more.
Going Gluten-Free is for you if you're just sick and tired of being sick and tired.
Going Gluten-Free is for you if traditional treatments just don't work and it seems like no one cares.
Going Gluten-Free is for you if you've wanted to for a long time but just don't know where to start.
Going Gluten-Free is for you if you're gung-ho, hesitant, white-knuckling, or everything in between.
Going Gluten-Free for you may mean the difference between lingering sickness and spectacular health.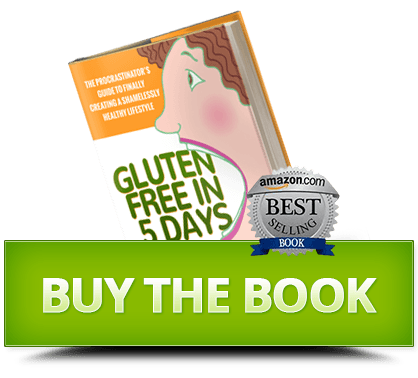 So Go Gluten-Free with me with "Gluten-Free in 5 Days"! An often funny, abundantly anecdotal, sometimes irreverent, always honest way to finally create a smashingly healthy lifestyle, this book guides you step-by-step through choosing, shopping, cooking, and dining out Gluten-Free. But it's not just your normal average "how-to". Because "Gluten-Free in 5 Days" not only gives you pretty much everything foodwise you'd ever want to know about going Gluten-Free. It also empowers you with foolproof ways to get there.
Let's face it . . . lifestyle changes can be downright daunting. And you may get bogged down and discouraged along the way even with the best of intentions. So interwoven within each chapter are powerful CHANGE-POWER behavior modification tools to get unstuck and get going. To immediately have the smashingly healthy lifestyle you've always wanted but seemed just out of reach.
Are you ready to have freedom from digestive, mood, immune, skin, inflammation, and hormone problems? And lasting wellness? For the rest of your life?
Go Gluten-Free with me. Let's go!
Are You Ready For Change?
Praise for Gluten-Free in 5 Days

This book is delightful! It's upbeat, encouraging, and loaded with practical advice. Written by a nutrition professional who's walked-the-walk, you'll find lots of helpful tips on everything from what to include, what to avoid, and how to stay gluten-free when eating out. Eating in? No problem; Jill's got you covered with ideas for simple meals that are quick and easy. Her humorous writing style makes going gluten-free about as much fun as it can possibly be!
Nutritional Genomics Consultant

GF in 5 Days is a triumph! In a landscape that has become complicated and commercialized, Jill Place separates fact from hype and delivers a program that is easy to follow. This entertaining book breaks down the exploration of gluten sensitivity into manageable actions covering all aspects of the process of going gluten free. I only wish I'd l had this book when I was learning about how gluten sensitivity impacted my own health. Brava!

Drastically changing the way you eat is difficult. For me, it was literally an act of desperation in an attempt to alleviate the inflammatory problem I had struggled with for years. I had seen multiple specialists whose many well-researched attempts to treat my symptoms were completely ineffective. Jill Place did not treat my symptoms … she cured the underlying inflammation and I am eternally grateful to her. Jill walked me through the LEAP testing process and thoroughly overhauled my diet. Her wisdom gained through years of experience, encouragement, and practical meal ideas made the process of radically changing the way I eat a hopeful and exciting journey.

Thank you, Jill, for a very useful book that acknowledges the significance of food and how it affects us physically, socially, and emotionally. I highly recommend this book, and encourage anyone who is serious about changing their life through their diet to invite Jill along on their journey. Your commitment and Jill's expertise is a recipe for success!
Mom of Two Teens, Wife, Friend, Business Owner, Occupational Therapist, Highly Sensitive to Foods, Gluten-Free, Loving Client

I have to say, I really liked the tone of her book. She's obviously knowledgeable, and I learned a lot. But she's not militant about it. I loved that she said, "Try it, and if it doesn't help, stop doing it!" What a welcome breath of fresh air!
S. Honeycutt Professional Editing Services

I must admit that I liked the stories and the personal way Jill Place, the author of "Gluten-Free in 5 Days" presented her material the best. I felt like I was sitting in a room or on the phone with her, just having a conversation. And, having lived gluten free, many of these recipes are versions of some of my favorites. The workbook and videos had tips that I could use right away. Jill not only tells how to eat gluten-free, she coaches us through it by asking questions, having us writing an agreement with ourselves, and daily check-ins. After I finished it, I could really see myself doing "Jill's method".
Certified LEAP Therapist and LEAP Mentor

If you've ever wondered about whether gluten-free might be right for you. Gluten-Free in 5 Days".. by Jill Place Is a must-read . You'll get so much info to help you make that choice for yourself. Jill has it all laid out for you in her book- I loved the —the shopping, cooking, and dining out lists. Plus Jill not only tells you how to eat gluten-free, she coaches you through it by asking questions, writing an agreement with yourself, and daily check-ins. I know you'll love this book as much as I did!
Prosperity Muse & Psychic Biz Coach